A Falconer's Journey
Our Thanks to Steven Franzen for sharing this story with us and giving us permission to share with everyone!
The Master and The Apprentice
A middle-aged falconers journey thus far
When I was very young, my family and I would take several trips a year from our home in southern Wisconsin to visit family in the northeast corner of Iowa. The ride was around 3 hours or so. At the age of eight, I began to notice large birds perched on the tops of the telephone poles along the highways we traveled. And after convincing my mother to purchase a ?bird book?, I was able to make an effort to begin identifying these creatures, and perhaps, learn a thing or two about them!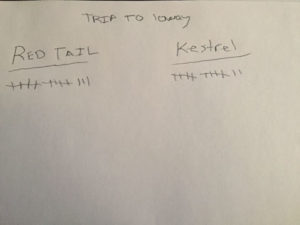 I spent countless hours reading my ?bird book?. And after only a few days, I had considered myself the world?s foremost expert on everything with wings! And my expert opinion concluded that only two species of birds existed between home and Iowa?. the red-tailed Hawk, and the American Kestrel. It was clear to me that I must conduct field studies to support my opinion! And so I began the arduous task of counting the red-tails and kestrels that I would see from the backseat of a Toyota Camry!
The journey had begun
In late November of 2011, I was fortunate enough to purchase a second home in southern Utah. Although I was residing in Las Vegas at the time, the ?Utah house? was a short and picturesque two hour drive! Ok, perhaps the Interstate 15 between Las vegas and St. George is not so ?pretty?. However, when you look at it from a falconers perspective, it?s a paradise! And so going to Utah became a recurring adventure most every weekend! In January of the following year, I received a wedding gift from the previous owners of the Utah house. I tore into the package like I was eight years-old again on a Christmas morning ! When it was all said and done, I found myself holding a paperback book. And on the cover of this book, was a man who I had never seen before.
The cover photo was incredible! However, it was not so much the photo itself that caught my attention, but more so what he was doing when this photo was taken. Over the years, my burning desire to be a falconer had to be kept in check as a result of ?life circumstances?. I read the book in it?s entirety that night! And after doing so, my lifelong desire to be a falconer began to burn hotter than ever before!! I realized that now was the time to act on that dream. And if I did not, I would certainly succumb to a nuclear meltdown!
On a warm and breezy January afternoon in Las Vegas, Nevada, I found myself placing a phone call to a man named Martin Tyner. Needless to say, I was extremely nervous! What does a want-to-be falconry apprentice say to a master class falconer of over 40 years? Fortunately, I had convinced myself to just keep it simple. About three seconds later, he answered the phone. I introduced myself by name and explained to him that I am seriously interested in becoming an apprentice falconer. Although it is unlikely, I imagined him thinking to himself.. ?Oh man, another one???. In reality, he was extremely kind and accommodating. And after a 20 minute conversation, he extended an invitation to meet him in person the next time I was in Utah.
Less than a week later, I was on my way to Cedar City, Utah. And although the directions provided to me by Martin were simple to follow, I did manage to get lost? twice! Of course, I made no mention of my cartographical handicap to him! When I finally arrived at the Parowan Gap, I noticed a tan Subaru Forester with aftermarket labeling that read ?Southwest Wildlife Foundation of Utah?. My heart started to race, I may have even started to perspire more than usual! Nevertheless, I parked, stepped out of my vehicle, circled around to the back, and found myself face to face with the master!
I spent the next eighteen months visiting Martin as often as I could without becoming a nuisance! Additionally, I read and studied anything and everything I could find about falconry and the general biology of the falconry birds themselves. I spent the falconry season of 2012-2013 ?shadowing? another master class falconer in Las Vegas. This same master class would eventually become my sponsor during my apprenticeship. As much as I wanted Martin to be my sponsor, I was not a permanent resident of Utah, and therefore could not obtain a Utah falconry permit.
In June of 2013, after completing all the necessary steps, I was issued an apprentice falconry permit through the state of Nevada. After 37 years, this was a long time coming! I called Martin in a fit of excitement! And even though he was proud of me, I was quickly put in my place with these words? ?That?s great! Now the hard part begins?
In October of 2013, I successfully trapped my first falconry bird just south of Beryl Junction, Utah. After securing the hawk, I immediately called Martin to inform him of my victory! He instructed me to bring the hawk to his home where he would check the bird over and assist me with installing the anklets and jesses. I arrived at Martin?s home after what seemed like an eternity! I handed Martin my ?prize?, and after a thorough inspection, he declared the hawk to be healthy and fit!
A short while later, I set course for home in Las Vegas with my new friend ?Andy?, a passage (juvenile) male red-tailed hawk!
Six years ago, my relationship with Martin and Susan Tyner was strictly ?falconry professional?, for lack of a better term. However, in that time, I have gotten to know them quite well. And they have gotten to know me as well. In March of 2014, I went through a divorce. And although it was very amicable on paper, it absolutely destroyed me from the inside out. I found my mind entering some very dark places. The depression was consuming me faster than a peregrine in a stoop! And unless I found someone and/or something to hold onto, well?. I don't think I need to go any further on that subject. I managed to find some rational thought, and determined that, in addition to time, the following key points would help me heal?
Martin and Susan, falconry (and my other feathered friends), and my profession.
The intent of this short story is not meant to be about me. And I am not a ?writer? by any means. However, I felt it necessary to share my story of how I met Martin and Susan and the incredibly positive impact they have had on me! At any given time, you the reader, will find yourself on this website reading, donating, or simply appreciating the tireless work that this foundation puts forth!
What you will not read about (perhaps until now), is how the two focal points of this foundation, through falconry and genuine friendship, helped a man on the verge of complete self destruction? recover.
Healer of Angels? There is no doubt!
Healers of people? Perhaps so!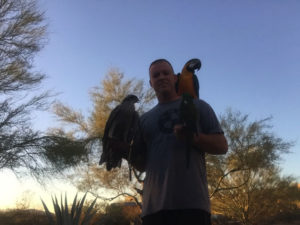 My name is Steven T. Franzen. I am 41 years-old and reside in New River, Arizona. I am a professional air traffic control specialist, a general class falconer, and friend to the Southwest Wildlife Foundation of Utah.