BIRDS OF PREY OF THE WEST FREE Program Feb. 29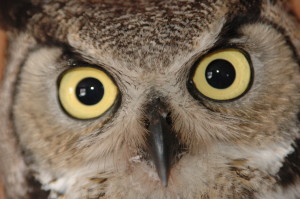 BIRDS OF PREY OF THE WEST
When: Monday February 29, 2016
Where: North Elementary School, 550 West 200 North, Cedar City
Time: 6:00 PM ? 8:00 PM
Who: Adults, Teens, Older Children

This program includes a power point presentation with outstanding photos & video of birds of prey found throughout the western United States. These lively presentations teach about raptors and their habitat in a fun and informal manner, including stories of wildlife rescue and rehabilitation. With live raptors at the program, participants have the opportunity to see and learn about the animals first hand. A question and answer period is included at the end of the show giving the audience the opportunity to actively participate.
Designed to teach wildlife values, respect and conservation, Mr. Tyner brings with with him a live golden eagle named Scout, a Harris Hawk named Thumper and a Prairie Falcon named Cirrus . This program runs an hour and a half to two hours and is a bit too long for babies and toddlers, but it is great for kids from 10 to 80 years of age. ? ?? Free to the public, seating is limited.
BIO
Martin Tyner started caring for the sick, injured and orphaned wild critters in his home town of Simi Valley, California at age twelve. At age nineteen he was hired as curator of birds of prey at Busch Gardens, California. He worked in the movie and television industry training big cats, elephants, primates, sea mammals and raptors.
Martin is a federally licensed falconer, eagle falconer, wildlife rehabilitator, wildlife propagator, wildlife and environmental educator. He has been providing wildlife and environmental programs through the western United States, to schools, scouts and community groups for over forty years. He provides inter-generational Road Scholar programs through Dixie State University, has lectured at college and university convocations, taught summer classes at Southern Utah University, ?The Ancient Art of Falconry and Shakespeare,? and performed in the Green Show with his raptors for the Utah Shakespeare Festival.
He is the founder of the Southwest Wildlife Foundation, Inc. a 501 c 3, non-profit, wildlife rescue, wildlife and environmental education organization. With the help of his golden eagle, Bud they received a donation of 22.6 acres of beautiful canyon property from PacifiCorp for the development of a permanent wildlife rescue facility and a nature park in Cedar City, Utah.
In 2005 Martin and Bud were honored by the Utah State Legislature for over a quarter-century of wildlife rescue and wildlife and environmental education in Utah and in 2009 his first book, ?Healer of Angels? was published.