Hawk and Owl Release
Good Morning Friends of the Southwest Wildlife Foundation,
Martin Tyner here: for the last few weeks our orphaned great horned owl has provided our weekly updates. This week I thought I?d take my turn. Both baby great horned owls are doing well, growing like weeds and eating us out of house and home. In the next few days they will be moved out of my home and into a rehab chamber where there will be very little human contact, which will allow them to grow up to be wild, beautiful great horned owls.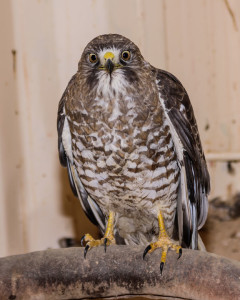 We?ve had a couple of releases this week. The most unique was a broad-wing hawk. It was injured on the Southern Utah University campus. His injuries were minor; he was only with us for a few days and then released. Here is the unique part. Just for fun, I want everyone to go on the internet and do a google search for broad wing hawks and ask yourself; how did this beautiful hawk end up in downtown Cedar City Utah?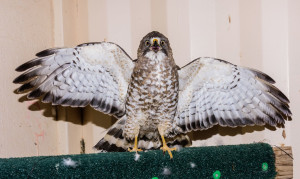 The second wildlife release was a big, beautiful, female great horned owl that was hit by a car about a hundred miles north in Fillmore Utah. Her injuries were minor. After two weeks of good food she was ready to be returned to the wild.
Whenever I release one of these beautiful creatures back into the sky I fully expect them to head for the horizon disappearing from sight. Of course I?m only human, and deep in my heart I hope for some small recognition: a look back, a circle overhead, a gift, something to acknowledge that the creature that I?ve cared for understands and somehow appreciates the love and care that we?ve provided. I know that sounds a little bit ridiculous, these are wild animals and for the most part they want to get as far away from me as possible. Remember I am the one who inserts a feeding tube down their throat, sticks them with needles, puts in stiches, takes out stiches; to many of them I am this big mean human that just added to their pain and suffering, not understanding that everything was done to help their recovery. So I completely understand when they blast out of my arms and head for the high country.
https://youtu.be/dMMaxXsCH6I
This great horned owl release was a bit unique. We took the owl about 15 miles north of town to some really good habitat. I got my camera ready. I removed the owl from the airport kennel. As I was preparing to release her back to the wild I held her in my left hand, held my camera in my right hand up to my eye to see if I could get a couple shots of her as she flew away. As I released her I started clicking off pictures as quickly as possible and we watched her disappear over the horizon. Not a glance back, not a circle in the sky, just disappeared very quickly. As Susan and I drove home we felt happy the beautiful owl was back in the wild; one less mouth to feed. It?s now time to clean out the chamber and get it ready for our next patient.
After arriving home I pulled the memory card out of my camera and downloaded the pictures onto my computer. It?s very hard to even get a usable photograph of a wildlife release when you are the person doing the releasing so I really didn?t expect much. Here is the photograph that I took, as the owl flew away she dropped one small downy feather and that small feather danced in the breeze and remained in the sky overhead long after she had disappeared over the horizon. Finding that photograph, a few hours after the owl was released, is kind of like doing someone a great kindness and then a couple of days later, finding a thank you note and a plate of homemade cookies on your doorstep.

If anyone would like to help the Southwest Wildlife Foundation they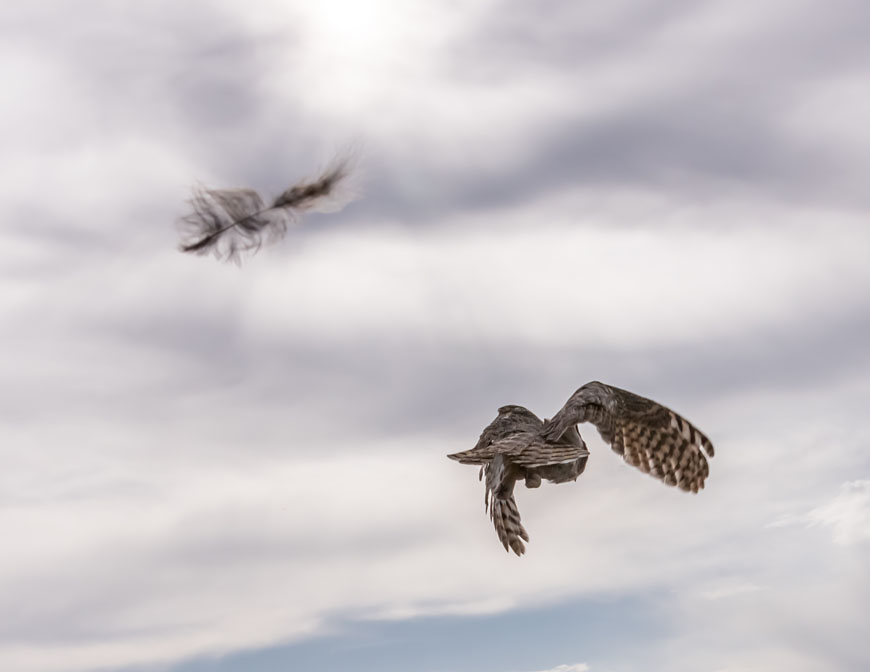 can make donations to:
P.O. Box 1907
Cedar City, UT 84721