Bald Eagle Released 3/7/2015
The bald eagle was released on Saturday March 7th at an overlook near Brian Head, Utah, after Southwest Wildlife Foundation?s licensed wildlife rehabilitator, Martin Tyner spent two months and a great deal of effort dedicated to saving his live after he was found nearly dead from suspected lead poisoning.
A free drawing was held to select someone to release the eagle. The lucky winner was Geri Petkowski of Cedar City who is pictured releasing the eagle at 3:00 pm mountain time as he symbolically carried prayers from those gathered to witness the release as well as followers from around the world; sending prayers on the wings of an eagle as he soars to the heavens.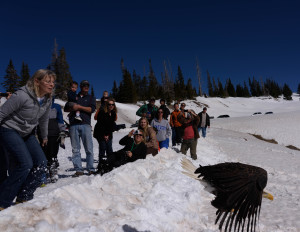 Someone in the group asked if the eagle would find his way back to Cedar City where he was found in January from his release point in the Brian Head area. Bald Eagles are migratory and we have a wintering population of approximately 50 bald eagles in the valleys surrounding Cedar City. We only have one pair of nesting bald eagles in the area and approximately 17 nesting pairs state wide. Our winter visitors are currently migrating to Idaho, Wyoming, Montana and Canada so that is why it was so important to get this guy released as soon as he was healthy.
As I sit here writing this update Martin just received a phone call from the Utah Division of Wildlife Resources. They just picked up a golden eagle with a badly damaged wing. The eagle will be dropped off within the hour. The joy of releasing the bald eagle back to the wild may be short lived. If the injuries to the arriving golden eagle are too severe? it may have to be euthanized. Sometimes I wonder how Martin has the strength to continue to do this.