Belle the Harris Hawk Training Part Two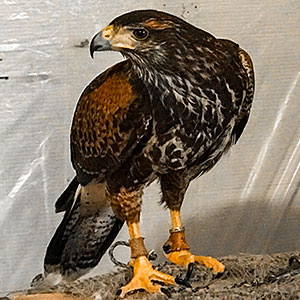 Belle the Harris Hawk is our newest Wildlife Ambassador. In addition to attending educational presentations with Martin, she is a falconry bird. Her full story can be viewed in this YouTube Playlist.
In this video, Martin begins her training with sometime on the glove walking around in the desert and becoming accustomed to him, the glove and her surroundings. She is also given time to adjust to a hood being placed on her head.
She is later taught to jump from perch to his glove and learning to recognize that the sound of the whistle means food.
More of her early training days will be shown in future videos.