Benefit for the SWF – Sunday September 6th
A portion of the proceeds from this event will be given to the Southwest Wildlife Foundation! So Please share this with your friends.
The Zion Matrix with DJ Sharu.
"A elevated LIVE CONCERT experience of Light, Sound and Soul?
Labor day Sunday, September 6th, from 7-10pm @ the stunning outdoor O.C. Tanner Amphitheater in Zion National Park, Springdale UT.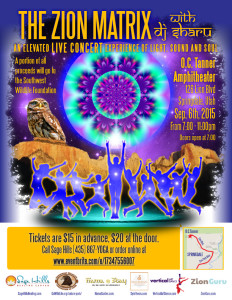 Zion Matrix is growing beyond our expectations and turns into a incredible concert of community. Buddhist Monk Geshe-La Thupten Dorjee, a Tibetan Monk with highest degree of Geshe will give a blessing, Martin Tyner from Southwest Wildlife Foundation will present live birds and shares his relentless passion to help rescue birds of pray. Summer Davis our local Aerial Silk Dancer will amaze our eyes together with extraordinaire Fire Artist Zane Miller and of course everything is weaved together in the Cosmic Tapestry of our beloved DJ Sharu. Get your tickets before the Labor day crowd arrives! Tickets are available for advance pricing: $15 OR $20 at the door.Tickets are available at eventbrite as listed below, or you can purchase them locally at the new outfitter store ZionGuru in Springdale or online at www.SageHillsHealing.com
Doors open at 7pm Martin Tyner presents Live Birds at 7:30 to 8pm D.J. Sharu starts at 8:15pm Event ends at 10.30pm A portion of our Proceeds will be donated to Southwest Wildlife Foundation – Martin Tyner. Martin's compassion and dedication to the preservation of the local wildlife, specifically our beautiful birds and raptors. He has rehabilitated thousands of these amazing beings and released them back into their natural habitat. We are honored and excited to be able to create awareness of SWF and raise money to support the Southwest Wildlife Preserve. Martin will be doing a demonstration with several Live Birds as a preview to our show with D.J. Sharu. Thank you Martin! DJ Sharu will lead and guide us into an exhilarated and elevated experience of the Sacred Sounds, known as Mantras, that have been "remixed" to create ecstatic dance and movement. Within the magnificent natural setting of the 3 Mary's and the West Temple as the backdrop to the stunning OC Tanner Amphitheater's, we will generate a profound healing to our Mother Earth and ourselves as her children. Come join and celebrate 2000 seat of potential graced on Earth. ~
Purchase Tickets NOW: https://www.eventbrite.com/e/the-zion-matrix-with-dj-sharu-t?
Follow Facebook: https://www.facebook.com/events/1403549533308294/