Our first short film now available at Amazon!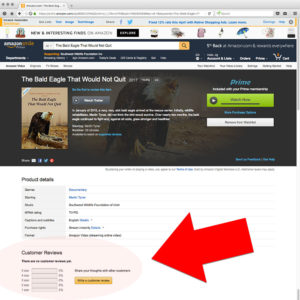 Three easy ways you can help us to help the critters!
1) Our first short film, The Bald Eagle That Would Not Quit, is now available at Amazon: click to view. ? Besides buying and gifting a HD or SD version for everyone you know, it would also be very helpful if you could leave a glowing review. Streaming is included in Amazon's prime membership.
2) While you are there, might as well buy a few more copies of Healer of Angels and add your review: click to view! ?
3) If you shop at Amazon, you can join the Amazon Smile Program to send a percentage of your purchase to us! It's easy to sign up, more details here: click for more
Thank you!
Optional Step 4, pat yerself on the back!