Note to International Visitors
We are truly grateful for your visit and interest! Please note, all shipping fees are for
US ONLY
.
Please contact us about international orders
. It gets quite difficult and costly, so we need to handle each request personally.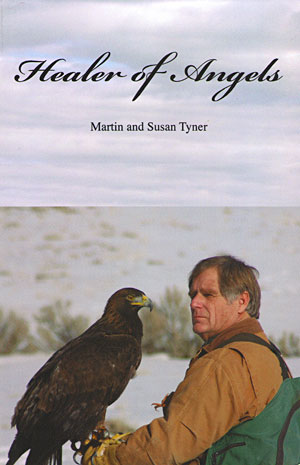 Read sample chapters

Listen to Martin discuss the book.
"One of my greatest childhood fantasies was the desire to create a personal friendship with a wild eagle. I found myself with a love and fascination for these powerful creatures."
Join Martin Tyner as he reflects back on his life: from a young boy terrified of birds to becoming the first man in North America licensed to train a wild golden eagle in the ancient art of falconry.
Healer of Angels is a heartwarming collection of true stories about overcoming life's challenges and disabilities with the guidance of wise grandparents and other mentors.
Read about his transformation from a shy dyslexic teenager, to the founder and CEO of the Southwest Wildlife Foundation. Some of the stories are humorous and some bittersweet, but each will inspire, teaching a lesson as it touches the reader's heart.
Books are signed by the authors
Includes over ten pages of color wildlife photography
A quality paperbook well suited for gifts and the coffee table
also available at Amazon
---
Sample Chapters
also available at Amazon
---
Reviews
"Healer of Angels, a book that speaks to you like a storyteller, a rare delight for people of all ages. Stories of animal rescue are told with humor, insight and compassion. Children will relate to the stories, find them fascinating, and see themselves in the tales of experiencing fear and insecurities and coping with them through courage, persistence and understanding."
—Joanne D. Browne, Ph.D., Teacher, Psychologist
"It's such a fun little book with gorgeous pictures. I lent the book to my brother, who is the biggest cynic on the planet, and he loved it. Thank you so much."
—Robin Cole, College Student
"As I read, I thought of how good of an example Martin would be to readers struggling in a world of harmful influences. If I had read more books like this as a child, I may have been more motivated to trust in myself, hold some better values, and follow a straighter path towards the fulfillment of my potential. Your book will definitely inspire many people. I hope that young adults especially, have the opportunity to read this book and by doing so are encouraged to believe in their dreams."
—Tim Needham, High School English Teacher
"The world needs more of this! Susan and Martin Tyner spoke at our community center with Scout the eagle, Thumper the Harris hawk and a baby prairie falcon. Their love for the birds is infectious and their stories of overcoming adversity open up your heart to a world full of hope. This is easy to read, 8 year-olds to 80 year-olds will like it. The color pictures of all the wildlife they have worked with are beautiful, not only the birds, but many others such as coyotes, prairie dogs and rabbits."
—Rob Snyder, Manager, Springdale Library, Utah
"Healer of Angels was a real page turner; I finished it about 1:30 this morning and just couldn't quit. It was fun to read and well written. Great Stuff!"
—Steve Miner, Utah State Family Services, Councilor
also available at Amazon
---
About Martin Tyner
At age twelve, Martin Tyner started caring for the sick, injured and orphaned creatures in his home town of Simi Valley, CA. At age nineteen, Tyner was hired as curator of birds of prey at Busch Gardens, CA. He worked in the movie and television industry training big cats, elephants, primates, sea mammals, and raptors.
Martin Tyner is a federally licensed falconer, eagle falconer, wildlife rehabilitator, wildlife propagator, and wildlife and environmental educator. He has been providing wildlife and environmental programs throughout the western United States, to schools, scouts and community groups for over forty years. Martin Tyner provides intergenerational Elderhostel programs through Dixie State College, has taught summer classes at Southern Utah University, The Ancient Art of Falconry and Shakespeare, and performed in the Green Show with his raptors for the Utah Shakespeare Festival.
Martin Tyner is the founder of the Southwest Wildlife Foundation, which is a 501(c)(3), non-profit, wildlife rescue, wildlife and environmental education organization. With the help of his golden eagle, Bud, they received a donation of 22.6 acres of beautiful, canyon property from Utah Power/Scottish Power, for the development of a permanent wildlife rescue facility and a nature park for the children of Utah.
In 2005 Martin and Bud were honored by the Utah State Legislature for over a quarter-century of wildlife rescue and wildlife and environmental education in Utah. Martin Tyner is one of America's foremost wildlife rehabilitators, a master falconer, eagle falconer, and wildlife and environmental educator. He travels throughout the west providing wildlife programs accompanied by his devoted companion, Scout, a wild golden eagle.
In 1976 Martin met the love of his life, Susan, who is an animal lover in her own right. Susan Heaton Tyner began her career working with animals in 1977, as a bather-brusher at the Canine Castle, a local dog grooming shop, in Simi Valley and finished her training at the Pet Oasis, in Lancaster, CA, where she graduated to the position of professional dog groomer.
Susan and Martin moved to Cedar City, UT, in the winter of 1979 where they raised two children. In 1982 they opened Tyner's Pets and Dog Grooming where Martin ran the pet shop and Susan groomed dogs.
Susan volunteered as a leader in 4-H, developing the Guide Dog for the Blind puppy program in Southern Utah. She has been grooming dogs professionally for over thirty years and is an award-winning, international, creative groomer.
Martin continues to travel throughout the west providing wildlife programs accompanied by his devoted companion, Scout, a wild golden eagle.