Eagle Release Saturday August 8th – Prayers on the Wings of an Eagle for Type 1 Diabetes
We will be releasing a young rehabilitated golden eagle this Saturday, August 8th at 5:00 pm at the ?C? overlook above Cedar City, UT.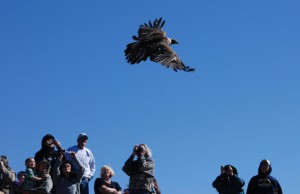 The golden eagle ready for release is a young eagle that was just learning to fly. He became separated from his parents, unable to feed himself and with the oppressive summer heat he was on the verge of death.
After a lot of intensive care, fluids and feedings by Martin Tyner, rehabilitator at the Southwest Wildlife Foundation, the young eagle has regained its strength and is now ready to take his place in the sky. There are two more young eagles at our rescue center that will also be released in the next few weeks.
There is a common belief among many native people, that if you say your prayers with an eagle feather, the eagle feather will carry your prayers to God. An eagle has over seven thousand feathers. When we have an eagle ready for release, we will frequently seek out individuals or organizations that could use some extra prayers and allow them to release the eagle.
We have invited Josh and Jamie Terry to release this eagle with their family and friends in memory of their daughter Kycie Jai Terry and to help raise awareness for Type 1 Diabetes which took her young life.
This little girl captured the hearts of many Southern Utahans? and people around the world when her undiagnosed Type 1 diabetes led to a brain injury in January. Her subsequent 111-day stay at Primary Children's Hospital in Salt Lake City raised awareness about the dangers of undiagnosed juvenile diabetes as support for the Terry family grew through the Kisses for Kycie campaign. She died at home Saturday morning, July 11th in the arms of her father.
Everyone that would like to participate in the eagle release sending prayers on the wings of an eagle is welcome to join us.
Directions to the ?C? Overlook:
Take I-15 to Cedar City exit and proceed downtown on Main Street to Center Street. Go east on Center Street heading up Cedar Canyon, Highway 14. Travel approximately five miles and just before you get to Milts Stage Stop, turn right (south) toward Kolob Reservoir. Travel up the paved road, climbing in altitude. Cross the first cattle guard, and just before your reach the second cattle guard turn right. Less than a hundred feet you will arrive at the small parking area above the C overlook.
For more information visit the following links:
The American Diabetes Association https://www.diabetes.org/diabetes-basics/type-1/
Kisses for Kycie Facebook https://www.facebook.com/kissesforkycie?fref=ts
The Southwest Wildlife Foundation https://www.gowildlife.org/
Southwest Wildlife Foundation Facebook https://www.facebook.com/groups/85218228664/
Cedar Canyon Nature Park Facebook https://www.facebook.com/CedarCanyonNaturePark?fref=ts